Quick Search Pre-Employment Screening Solutions
Quick Search Has the Expertise You Need
Hiring the right employees is critical to your success. Quick Search's quick and convenient background screening service helps your business ensure that each and every hire meets the unique quality standards you require. Our experienced team works with you to customize the most comprehensive and accurate report – meeting your company's needs, every time.
Industry Experience
25+ years of Consumer Reporting Agency (CRA) industry experience
5,000,000+ searches performed
30+ expert background researchers
Comprehensive Network
Extensive criminal and/or civil court search capabilities in more than 3,000 counties
30+ Applicant Tracking System (ATS) Integrations including Taleo, HRsmart, ICIMS, Bull Horn, and many more
Configurable Solution
Background screening packages tailored to your needs
Serving businesses of all sizes
No upfront or monthly maintenance fees
On-going Compliance Support
Due to the complex and increasing regulation at the local, state, and federal levels, and a recent increase in litigation surrounding the FCRA and EEOC, it is crucial for a company to partner with a background screening vendor that provides full compliance support. Quick Search will work with your company to ensure you are always compliant with the latest requirements.
Find Out More About Our Services
Quick Search Google Reviews

Najeeb Ullah Nasar
17:27 08 Jan 19

Richard Gloskey
12:24 19 Feb 18
I use them several time. Every time using them had great service. The one time I had a problem I called and the problem was fixed in Know time. Thank you

Allen DeJonge
14:06 24 Sep 16
Excellent service and responsiveness. Our contact at Quick Search was always available and knowledgeable on any questions that we may have had.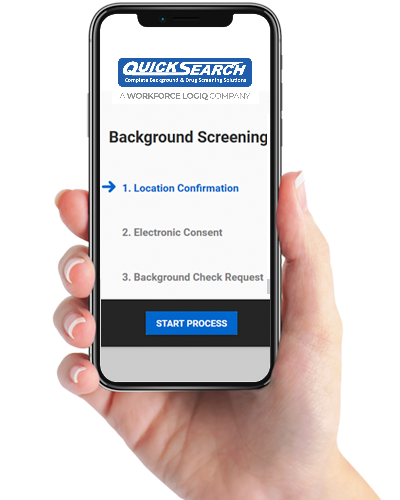 In today's market, you need great candidates more than they need you.
With our custom, applicant-focused mobile screening portal, Quick Search helps make sure you can start the screening process now. Faster speed to hire for you – better applicant experience for your candidates.
Don't lose another candidate due to inconvenience.
Our platform integrates with more than 30 Applicant Tracking Systems